Here at Cool River, safety is our main priority, both for our customers and staff. We work closely with our local council and adhere to government policies. 
The owners of the cafe have done extra courses and have now a certificate in 'Principles of Infection control and Safe working' and all members of staff have been trained in these principles also. 
Firstly, we do ask that if you show any of the below symptoms;
–New and persistent cough; coughing a lot for more than an hour or 3 or more episodes in 24 hours. (If you usually have a cough, it may be more than usual)
– A High Temperature; this means you are hot to touch on your chest or back (you do not need to measure your temperature)
–Loss or change to your sense of Smell or Taste; this means you have noticed you cannot smell or taste anything, or things smell or taste different to normal
PLEASE DO NOT ENTER THE CAFE. PLEASE GO HOME AND SELF ISOLATE AND SEEK MEDICAL ADVICE. THIS IS IN LINE WITH GOVERNMENT GUIDELINES. 
BOOKINGS
We strongly recommend you book a table with us to ensure we can seat you and to avoid disappointment. Due to a new seating arrangement and giving the recommended, safe distance for everyone, we have limited seating available. Use the CONTACT US form or give us a call at the cafe to book.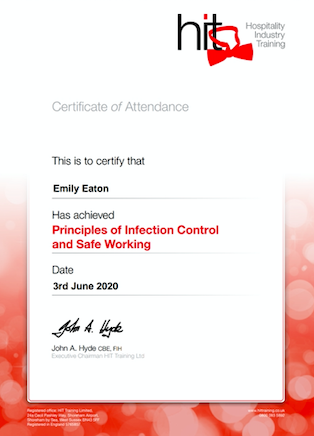 Safety tape has been placed around the cafe, helping everyone to keep at a safe distance.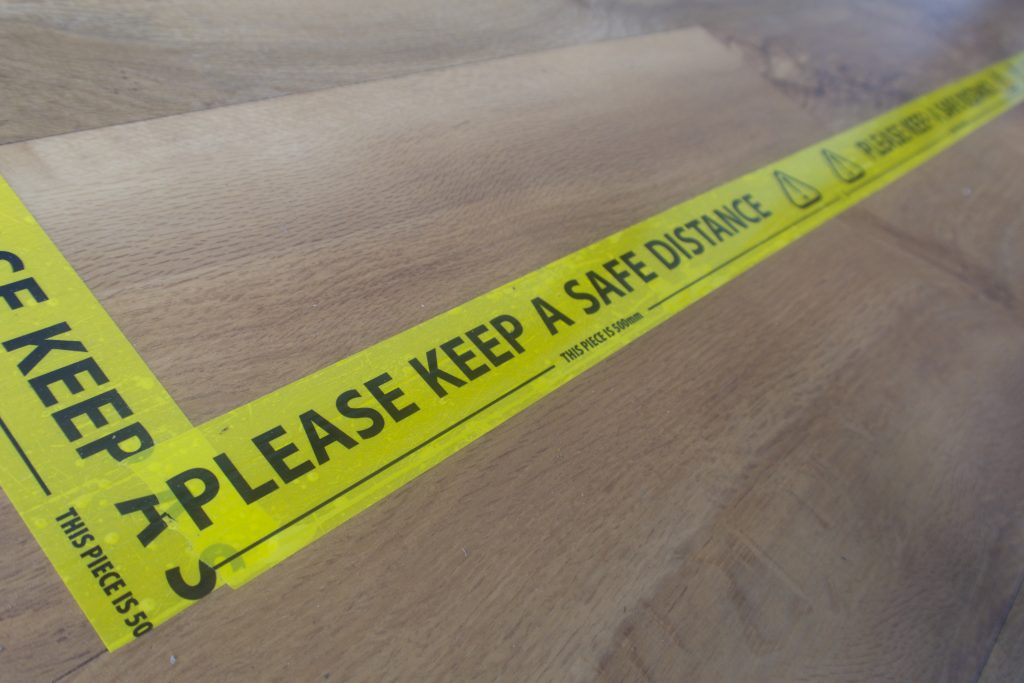 All outdoor furniture has been throughly cleaned and jet washed.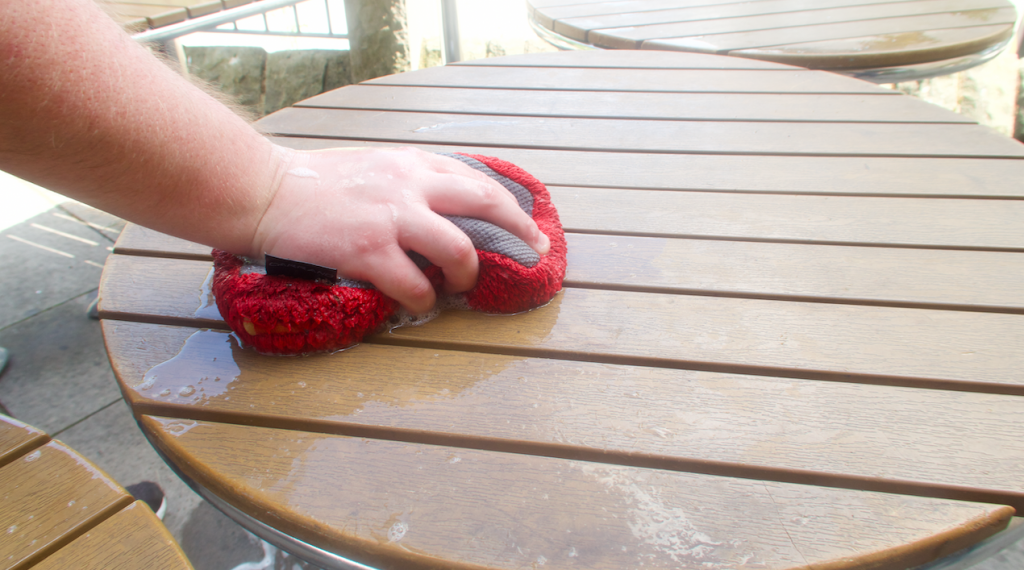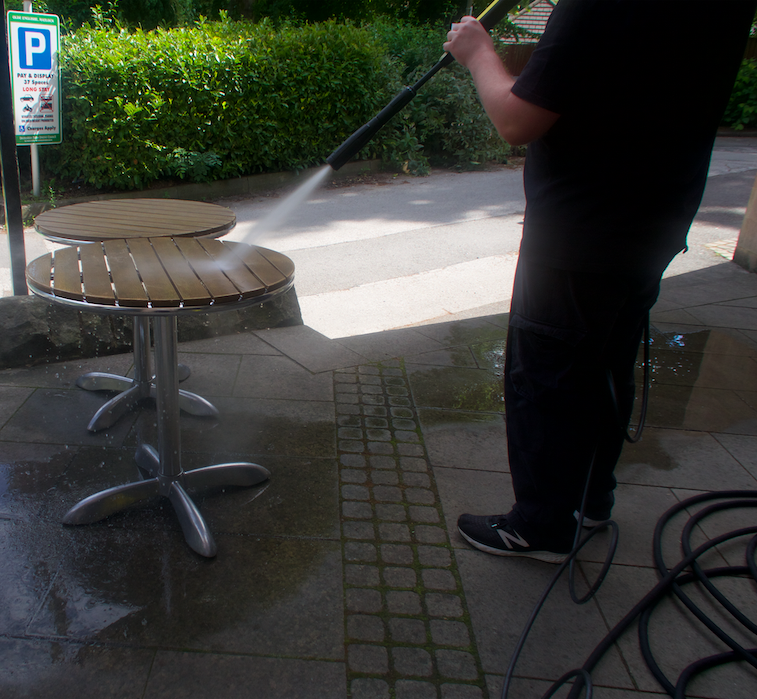 In this section we will list the new measures we have put in place, for everyones safety.
Sanitising Stations;
As you approach the cafe you will find a sanitising station upon entry. In addition you will also find hand sanitiser next to the till and by the public toilet. We encourage that you make full use of this facility.
Our staff will also be using hand sanitiser between jobs. in addition to regular hand washing.    
Social Distancing;
Upon entry, we ask that customers wait by the door, where there will be a sign asking you to wait to be seated, with floor markings so people know where to queue. This is so we can control the numbers of people inside the cafe at any one time and also stops groups gathering around the till and display cabinet. We ask that once you are shown to your table, you remain seated during your time with us as much as possible. 
There is now a one way system in place at the cafe. You will enter by the main cafe doors and leave by the kitchen side. Anyone waiting by the doors is asked to 'give way' to those within the cafe. 
For Click and Collect orders or for takeaway, please queue at the door and a staff member will welcome you in when available. We are operating a one in, one out system, so that only one person is at the till at one time. 
Tables inside the cafe have been rearranged. The new seating arrangement allows 140cm separating each table.. Another measure we have in place is seating customers back to back. We kindly ask that tables are not moved from this arrangement
PPE
Upon arrival for their shift, staff will be temperate checked and asked to confirm they do not have any signs of COVID-19, to ensure they are fit for work. Through out their shift staff will be wearing face coverings   
CLEANING
In addition to our usual  procedures, we have increased our cleaning schedules, paying particular attention to high touch points; door handles, PDQ machine, chairs, and taps. 
Our public toilet will be regularly checked through out the day and all touch points within sanitised as normal. 
If you do have any queries on our new procedures/policies, please do not hesitate to contact us. 
In these difficult times, we do appreciate all the support we are getting from our customers. We want everyone to feel comfortable and safe whilst with us. These are all new procedures for both staff and customers, so do appreciate your patience whilst we are getting to grips with our 'new' normal.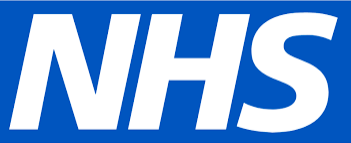 When sitting with us here at the cafe, you will be asked to fill in the form below. By maintaining records of staff, customers and visitors, and sharing these with NHS Test and Trace where requested, you can help  to identify people who may have been exposed to the virus. Containing outbreaks early is crucial to reduce the spread of COVID-19, protect the NHS and social care sector, and save lives. This will help to avoid the reintroduction of lockdown measures and support the country to return to, and maintain, a more normal way of life
Recording both arrival and departure times (or estimated departure times) will help reduce the number of customers or staff needing to be contacted by NHS Test and Trace. We recognise, however, that recording departure times will not always be practicable, so just give an estimate.
 We will hold these records for 21 days. This reflects the incubation period for COVID-19 (which can be up to 14 days) and an additional 7 days to allow time for testing and tracing. After 21 days, this information will be securely disposed of.
As expected, your information is held securely with us and will not be used for any marketing reasons by the cafe. All GDPR rules will be adhered to.